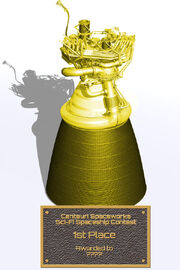 I have done over forty posts about the ships  I have made.  I like sharing my ships, but I also like seeing the ships others make.  I like being inspired by their creativity and designs.  So I decided to try something a little different.  I want to issue a challenge to all the space agencies out there.  A chance to show off your creativity.
The Challenge: Design a ship or station in Space Agency that is inspired by a fictional ship or station.
And to sweeten the deal, the best ship gets a big trophy.  You can post it on your profile or social media. You can even frame it and hang it up.
To enter, email the following information to centaurispaceworks@gmail.com :
Screenshot(s) or sandbox of your ship
Sci-fi ship it is based on
Your name, your agency's name, or however you want to be credited
(Optional) A link to your social media, wiki profile, or website.
The entries due by January 19th, at midnight.  One entry per person.  I'll post all the entries to my blog and announce a winner after the contest closes.
Thanks to zombie8259 for giving me the idea for the theme of this contest.  I'm looking forward to seeing lots of great ships.
Update:  The contest has finished and you can see the results .