Before advancing to the paragraph, we want remind people that Angkasa-X is an aerospace manufacturer and space transport services company, not part of or involved with any terrorism or defense force. Angkasa-X serves MAS Defense Force or any weapon developer like a normal client/customer.
Meriam-6 Weapon Testing for MAS Defense Force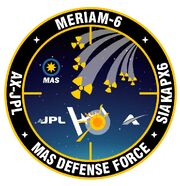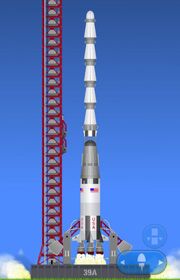 Angkasa-X Jet Propellant Laboraroty (AX-JPL) was commissioned by MAS Defense Force to launch Meriam-6 Weapon for testing purpose. The defense force which secretly has a station built by their own interested to use Angkasa-X's SiakapX6 rocket which capable of delivering 6 payload in a single launch to destroy the station itself.

MAS Defense Force stated that the demolished station was retired and might need Angkasa-X's experiences in designing, launching and managing station to build a new station for them.
Below: Mission Image Sequence -
AX-JPL manages the rocket launch to orbit while the trajectory to the target was fully under control of MAS Defense Force. The station was exploded after 2 of the 6 weapons were deployed. Another 4 weapons missed the target but it shows that the higher weapon number increases the chance of reaching the target especially for targets that are far away from
HOM
. Multiple weaponry in a sigle launch also means that enemy requires more work to shut down each deployed weapon.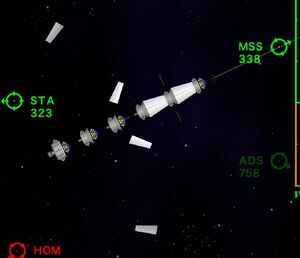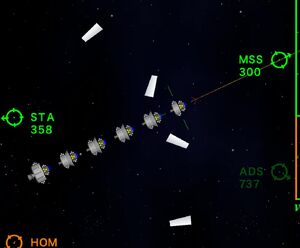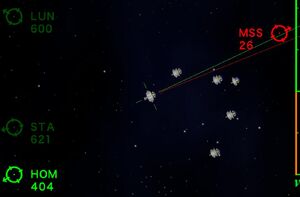 Previously, MAS Defense Force destroyed a spy station with 4 weaponry payload launched with a single
SiakapX4
rocket. Space Habitat Angkasa-X (SHAX) is ready to serve the need of MAS Defense's despite the continued speculation of
Angkasa-X
involvement in space terrorism.
Community content is available under
CC-BY-SA
unless otherwise noted.