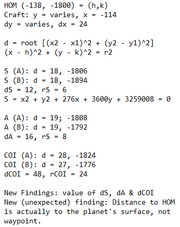 AX Interplanetary Lab - After analysing the result from it's first survey on planet HOM, Projek Kaliper brought an unexpected finding which suggest that the waypoint distance to a planet is actually the distance between a craft and the planet's surface. It contradicts the previous thought of a waypoint distance is always between a craft and the centre of a planet.
Projek Kaliper is a survey mission to study the physical of the planets in SOL system by transporting survey crafts on Kaliper Vessel which are planned to visit every planet on the system. The vessel's next stop will be the LUN and the result and detail of the surveys will remain classified until the whole mission is complete.
Community content is available under
CC-BY-SA
unless otherwise noted.