About WSOC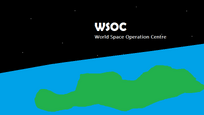 The World Space Operation Centre is a User Space Agency of building and testing new Hightech Rockets.
Upcoming Flights
Aloris I -- Starting January 2018 -- Enter the Interstellar Room
Solaris Ia -- Starting 2018 -- Sending Pictures of SOL to HOM
ENCseta -- Starting Soon -- Manned Landing Tower to ENC
LSR Upgrade -- Starting 31th of December 2017 -- Upgrading Station LSR
Not yet guaranteed flights
Aloris I Recover -- ??? -- Recover Aloris I
ENC Crew Recover -- ???`-- Comeback for the Crew to HOM for a new place for ENCseta
FAST I -- ??? -- With High-Speed through space
Infos
The WSOC (long: World Space Operation Centre) is a Custom made Space Agency og the game Space Agency.
The earlier Version (name: SOLEC) has ended, because Satellites have taken over the entire orbit.
Community content is available under
CC-BY-SA
unless otherwise noted.