Space Agency 2138 is a game currently in development by Andy Barry at Nooleus. It serves as a sequel to Space Agency, and has a 3D dimension and graphics. It was released on iOS on March 25, 2020.
Space Agency 2138 Wiki
http://space-agency-2138.wikia.com/wiki/Space_Agency_Wiki
Note: Under construction.
What would you like to see?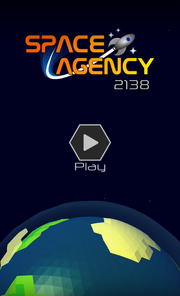 Post in the comments section below on what features you would like to see in Space Agency 2138.
Here are some examples:
Space Shuttle capable of launch and reentry
Astronauts (with life support systems like food, water and oxygen.)
Planet exploration and base building
New planets and missions
Custom rocket building
Asteroid Belt
Hidden Planets
Another solar system
Community content is available under
CC-BY-SA
unless otherwise noted.