Add On Purchase
Some or all of the features on this page require the NooleusX in-app purchase.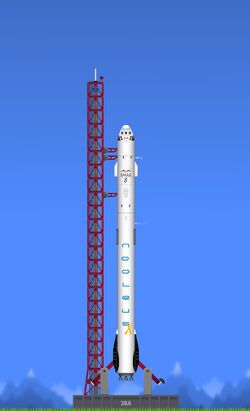 The NooleusX, also known as the Eagle 8 is a medium-sized reusable rocket system, and also the first rocket to solely be built from Premium Parts. This rocket is likely based on SpaceX's Falcon 9 rocket. The name "NooleusX" is a pun on SpaceX.
Purchase price:
$7.99 AUD
$5.49 CAD
$3.99 (or $5.49, area dependent) USD
€5.49 EUR
$43.00 HKD
It is built as follows:
Community content is available under
CC-BY-SA
unless otherwise noted.