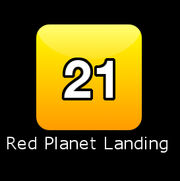 Mission 21, named Red Planet Landing used to be the final of the original set of missions. Here, you'll fly to and land on the red planet, RED. This mission is very similar to the lunar landing.
You'll need to assemble the N1-LK-LOK vehicle exactly as directed to be able to complete the mission. After docking with the LK lander in HOM's orbit, fly to RED via LUN. Enter the red planet's orbit, land on the surface, take a picture, and fly to HOM to complete the mission.
The N1-LK-LOK must be assembled as follows:
Walkthrough:
https://www.youtube.com/watch?v=JrUUW3IDSJs
Objectives
| Award | Cost | Time | Checkpoints |
| --- | --- | --- | --- |
| Gold | < $80,875,000 | < 17m 10s | No |
| Silver | < $80,875,000 | < 20m< | Yes |
| Bronze | < $80,875,000 | < 25m | Yes |
Assemble a N1-LOK-LK rocket
Launch the rocket, making sure the third stage reaches orbit
Dock the LK with the LOK
Fly to LUN
Fly to RED
Separate the LK
Land the LK in the landing zone on RED
Take a photograph
Separate the LK Core Stage
Dock with the orbiting LOK
Enter Orbit around HOM
Re-enter and splash-down
Budget: $80,875,000
Max time: 25m
Tips
This mission was recognized by many to be very difficult, with the most frequently reported problem being fuel depletion. That makes fuel saving "crucial" to complete the mission.