A Cupola is a space station part which serves a decorative function.

The Cupola has one docking port, similar to the Habitation Module and ISAAC Module
It consumes 10 Power.
Trivia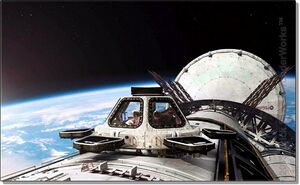 In real life, a cupola is a large "bay window" in a structure, such as a spacecraft, aircraft, building, etc, which offers a wide view of the area outside of the structure.
The cupola is possibly based on the one found in the ISS
It seems far heavier than its size would imply, relative to other parts in-game, being about as heavy as a Space Station Module, while only the size of a station hub.
A Cupola is used in the test crafts of mission 36 and 37. It's the only place where a Cupola can be found without launching one.
It is also used as a "cockpit" in Exploration Stations.