Overview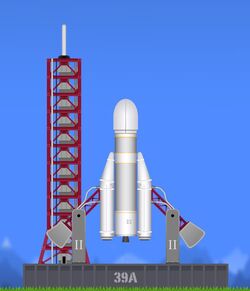 Ariane 6 is a launch vehicle under development by the European Space Agency (ESA), with a first test flight scheduled for 2020. 
When development is completed, it will become the newest member in the Ariane launch vehicle family. The final design was selected by a meeting of ESA ministers in December 2014, favoring a liquid fueled core with large solid rocket boosters, instead of the initial solid-rocket fuel design. 
The motivation for Ariane 6 is to replace the Ariane 5 at half the cost, and allow double the number of launches each year.
The Ariane 6 contains:
In the game the parts of this rocket are unlocked after completing misson 30
Trivia
There is an Ariane 6 variant with 4 boosters at the sides. Since this is a 2D game, we can only use/see 2 boosters.
Community content is available under
CC-BY-SA
unless otherwise noted.